"Content is king, but content distribution is queen...and she wears the pants."
Jonah Peretti, CEO, Buzzfeed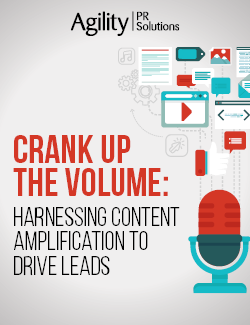 You and your team spend hours researching, crafting and editing your brand's content. It's great stuff: informative, entertaining, and designed to be easily—and readily—consumed. So what happens next?
Many organizations invest valuable resources into creating quality content—only to fall short on getting it out to their audiences, leaving it to gather pixeldust on a landing page somewhere in the deep recesses of the internet.
Agility PR Solutions' latest guide explains exactly what content amplification is, and how it should power your content marketing strategy:
Get advice from experts on content distribution best practices;

Discover what is THE key to pushing your content even further and reach audiences on countless different platforms;

Find out how to leverage influencers, tools and organizations to move your content.
Download the whitepaper by filling out the form on the right and get your content out the door!